Holy Air
Adam ( Shady Srour) is thoroughly in love with his wife Lamia (Laëtitia Eïdo), but that doesn't make him a successful businessman. He needs money now more than ever as they're experiencing a difficult pregnancy while his father is gravely ill. Adding the small daily misfortunes he encounters as an Arab Christian in Nazareth means Adam could really use a big break. He finds one where he least expects it: on the biblical hilltop Mount Precipice. He embarks on his latest, riskiest business venture: bottling the holy air and selling it to the city's tourists.
A colorful snapshot of modern-day Nazareth, Holy Air examines the complicated emotions that go into living as a modern, progressive family on the world's most spiritual ground. All around swirls the challenging social crosscurrents that Adam will need to navigate to get his idea off the ground: Catholic capitalists, Jewish bureaucrats, Muslim gangsters. Srour and Eïdo deliver remarkable and unflinching performances in this endearing comedy on spirituality, ideology, and survival—and which of the three must be sacrificed to preserve the others.
CAST & CREDITS
DIRECTOR
Shady Srour
PRODUCER
Ilan Moskovitch, Shady Srour
CINEMATOGRAPHER
Daniel Miller
COMPOSER
Habib Shehadeh Hanna
PRODUCTION DESIGN
Miguel Merkin
COSTUME DESIGN
Naim Kasem
CAST
Shady Srour, Laëtitia Eïdo, Shmulik Calderon, Tareq Copti, Dalia Okal, Bian Anteer

'Holy Air': Film Review | Tribeca 2017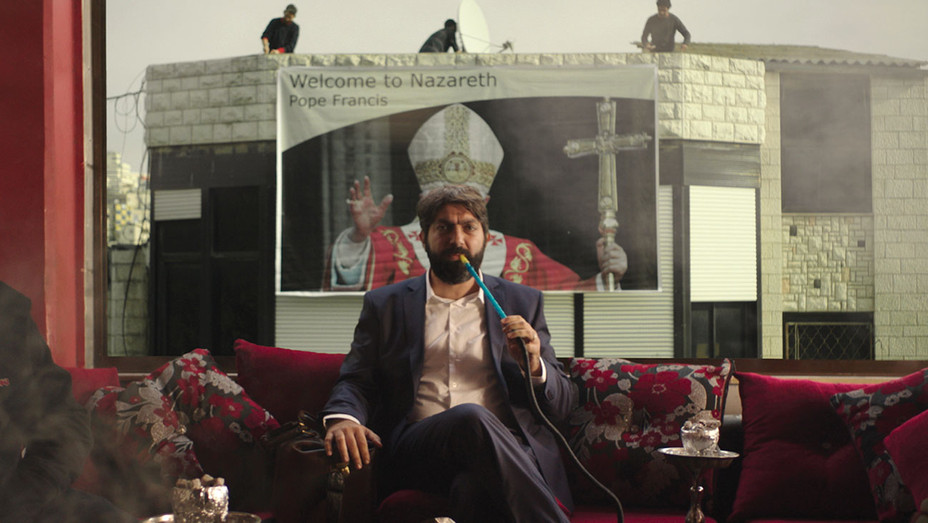 Courtesy of Daniel Miller
In his second feature, Israel-based filmmaker Shady Srour plays a father-to-be who hatches a product idea aimed at religious tourists.
Adult growing pains, regional politics and the business of religion all figure in Holy Air, a winningly satiric comedy that's as tenderhearted as it is sly. Writer-director Shady Srour has a soulful sad-sack quality as his film's central character, Adam, a Christian Arab Israeli who's not quite ready for fatherhood or for the painful fading of his ailing father. As he tries to find his entrepreneurial calling, he lights upon the idea to bottle the title item and hawk it to Israel's tchotchke-collecting tourists. With its light dramatic touch and assured visual style, the feature should have a busy itinerary after its world premiere at Tribeca.
Srour bookends the movie with traffic jams, several years apart. They both take place in Nazareth, a predominantly Arab region of Israel, as does most of the thoughtful, engaging film. The action opens to the din of honking horns as an enervated Adam, stuck behind the wheel of his immobile car, watches his spunky wife, Lamia (French-Lebanese actress Laetitia Eido), take a pregnancy test beside him in the front seat. The positive results don't exactly make him jump for joy.
Unlike Lamia, a social worker and advocate who speaks on local TV about female sexuality with fervent, male-crew-flustering directness, Adam is floundering. He feels no connection to the business he started with his go-getter partner, Mahmoud (Byan Anteer), who has long since abandoned the leftist ideals of their student days. Without telling his wife or parents, Adam quits his job in pursuit of more fulfilling ventures, and inspiration soon strikes, somewhat paradoxically for this reluctant dad-to-be, when he overhears the spiel of holy-site tour-meister Roberto (Shmulik Calderon) about Gabriel's annunciation to Mary. Adam casts aside his nonstarter of an idea for inspirational toilet paper and gets busy climbing the rocky slope of Mount Precipice, where he "fills" handcrafted bottles from his father's shuttered workshop with the blessed air.
With his facility for language, not to mention a consumer-friendly price point — "Only one euro!" — Adam finds his light-as-air answer to holy water selling like hotcakes, to the point where the local crime boss tries to squeeze him for protection money. Anticipating a surge in business during the pope's upcoming visit, he sets out to forge a coalition with Nazareth's Catholic, Jewish and Muslim leaders.
The idea of "selling air" is bitter shorthand among Israel's Arab minority, a wry description of the lengths to which they must go to earn a living when the political structure affords them few opportunities. Srour opts for a droll, deadpan absurdity to make his points. In his spare, elegantly structured screenplay, the most explicit discussion of culture and identity politics in Israel arrives in the form of an argument between two Tel Aviv doctors, in a comic scene that also happens to deal frankly with abortion.
The humor in Holy Air is inseparable from its poignancy, and every element of the film expresses that interconnection, from the performances to the spirited, melancholy-laced score by Habib Shehadeh Hanna. There's a quest for balance, and a sense of being caught between uncontrollable forces, in the characters' predicaments: Lamia's obstetrician (a terrifically funny Yussuf Abu-Warda) announces a 50-50 prognosis for the fetus; the oncologists treating Adam's father, George, offer a similar calculation.
Played by Tarek Copty (The Band's Visit), George is an old man with a beautiful face and a poet's soul, and he burns brighter as a character the frailer he grows physically. In a fine example of Srour's knack for infusing action with feeling, Adam and Lamia join forces with Adam's mother, Widad (Dalia Okal), to silence George's squeaky hospital bed, using cooking oil from Widad's kitchen.
In this sequence and throughout the film, Srour and cinematographer Daniel Miller favor fixed frames and symmetrical compositions. But they also have a feel for intimate exchanges and the ebb and flow in bustling streets and squares. Whatever the setting, and whether or not the air around the players is holy, Srour's subtly crafted film unfolds as a memorable and confidently imagined human comedy.
Production companies: Tree M Productions, Cinema Virgin
Cast: Shady Srour, Laetitia Eido, Shmulik Calderon, Tarek Copty, Dalia Okal, Byan Anteer, Yussuf Abu-Warda
Director-screenwriter: Shady Srour
Producers: Ilan Moskovitch, Shady Srour
Executive producer: Laura Hawa
Director of photography: Daniel Miller
Production designer: Miguel Merkin
Costume designer: Naim Qasim
Editor: Naaman Bishara
Composer: Habib Shehadeh Hanna
Sound designer: Raja Dubayah
Casting: Ilan Moskovitch
Venue: Tribeca Film Festival (International Narrative Competition)
Sales: New Europe Film Sales
80 minutes